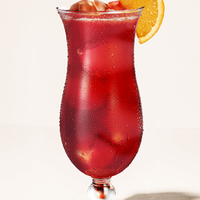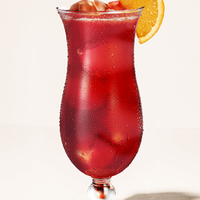 Hurricane
An exotic blend of passion fruit, orange, and a hint of lime.
---
INGREDIENT:
2 oz BACARDÍ BLACK Rum
1 1/2 oz BACARDÍ SUPERIOR Rum
2 oz orange juice
1 oz freshly squeezed lime juice
1 oz passion fruit syrup
1 tsp Grenadine Syrup

---
METHOD:
Shake all ingredients vigorously with plenty of ice. Next, strain into a tulip glass filled with ice and garnish with a lemon wheel, orange peel, and a cherry.